Growth Master Enterprises Limited
Dongguan Growth Master Plastic Co., Ltd

High Class Boeing Films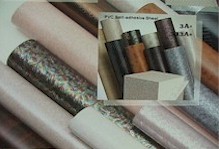 Our High Class Boeing Film can be perfectly applied to surfaces that are flat, curved, or angular. It is self-adhesive, abrasion resistant, heatproof and chemical resistant. Its easy application reduces working time and its quality is easily maintained. This film can create an elegant atmosphere of traditional, classical, European or modern style. The boeing films stand at the vanguard of interior decoration.


How to install PVC sheets with built-in glue:

1. Adhesive foil is ready to use. It sticks to all smooth, dry surfaces.
2. Sand down rough wood surfaces prior to sticking. then peel off the backing paper and attach sheet to the board.
3. If surface is rugged of uneven, pierce stubborn bubbles with a needle and squeeze the air out. Or heat it with got air and rub the surface with cloth.


Applicable to:
Metallic articles, doors and furniture, for surface finishing.
Attachment of iron or glass materials of freezers .... etc.
Wall decorations for ship, yachts, automobiles and aircrafts.
Plain decorations for elevator cases or other wooden ware.
Wall decorations for all houses and rooms.
Wall decorations with fabrics of all styles.
Specialty packaging labels, nameplates, trophies novelty item.
Home
Self-Adhesive Foils
Borders and Tile Stickers
Book Covers
Copyright© 2005 Growth Master Intl. Ltd. All Rights Reserved.
Click Here to send us your comments, or call (852)2838-8236
to speak with a Customer Service representative.